Summer draws to a golden close and always – it seems – there is a memory of some long ago journey. It was to somewhere different, somewhere new – and no matter where it was, you remember being invigorated, curious, nervous and excited. Going back has always been a chance to feel just some of that, perhaps with a bit more wisdom, but one more time.
Madrid has never been more invigorating – and in Europe, lot's of first-time travelers arrive there every year. Taking yourself back to the Spanish capital can even get you a free night. Or How about sailing from Venice with MSC cruises? Or a little further, there are terrific opportunities in the Caribbean, on Cozumel or even way off in Aruba where reservations are rewarded with free nights – and spectacular island culture. Check out these offers and a few more on the website.
Of course, nothing gives us more pleasure than introducing a new place to stay. This time it's the all-new Park Royal in Buenos Aires. Right in the center of the city with a spectacular location almost on the Plaza San Martín, it's a terrific homebase for learning everything Argentina. And it's that familiar face you know from Cancun and Cozumel and all the Park Royal hotels in Mexico.
How about the most visited places on Earth, broken out in a simple and again, inspiring, list? How many have you been to? You might be surprised how many are already regular stops for the Royal Holiday traveler.
Need to activate your account on the web? New accounts are being credits 200 FREE Holiday Credits just for signing up. And new bookings over 5,000 Holiday Credits are getting another 500 Holiday Credits just for booking online. There's even a fast little video to walk you through the whole process and it takes you just about 90 seconds to watch it!
Onle last thing, Member Services continues to operate on DST, so just till September 12, they're taking your calls from 9:00 to 17:00 – and they're always happy to hear from you. You can still check availability at Royal-Holiday.com, and learn a lot about each and every location and book when you're ready. It's faster, easier and you'll get going – and going back, before you know it.
There's never been a more inspiring time to go.
Bon Voyage!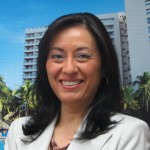 Laura Arango
Eurpoean Member Services Manager
Royal Holiday
The Inspired Holiday